The Reinke name is synonymous with center pivots. Our design and materials add up to a system that is lighter weight, more efficient and longer-lasting than comparable systems.
We fabricate our systems with high strength materials to reduce weight and withstand many years of rigorous use in all types of field conditions. The result? Reduced stress on the drive train and minimal wheel tracks. Ownership and maintenance costs are significantly reduced.
Drive Train
The Reinke center drive is engineered to give you years of trouble-free service. Its high efficiency gear motor delivers exceptional torque to propel your system over the roughest terrain and difficult soil conditions.
Tower Assembly
Our unique single-leg tower is the best in the industry. Engineered to absorb stress that would normally be transferred to the pipeline, our tower design maximizes system life and reduces component fatigue – which means less wear and tear on the system, and less maintenance and ownership costs for you.
Pivot Point Features

Pivot Legs – The pivot legs utilize high-strength, 9-gauge, 60,000 psi yield, galvanized steel. The increased strength gained from the roll formed, C-channel design and the 8″ wide x 3″ x 1.25″ cross section of the pivot legs, eliminates the need for cross bracing and provides easy access to all the components in the lower structure. The wider leg is attached to a large pivot foot by four grade 5, 5/8″ bolts and then securely anchored to the pad with commercial grade, 1" bolts.
Pivot Platform Steps – Heavy-duty perforated platform steps (not angle) can be mounted on one or more pivot legs and have been specifically designed for a comfortable and safe ascent. An optional walkway is available that provides easy access to all parts of the upper structure.
Pivot Bearing – The 18″ long bearing made from 1/4″ thick close fit tubing is cradled within eight strategically placed gussets eliminating any distortion so the bearing can run "free"without sticking or binding. A single lip or the optional (low pressure) triple lip pivot gasket seals against a stainless steel surface to optimize gasket life and provide an excellent seal.
Pivot Flex Joint – The multi-directional pivot flex joint, connected above the pivot bearing to a full diameter long sweep top elbow, is standard on all Reinke systems. The pivot flex joint is designed to minimize the stress exerted on the pivot bearing and structure.
Pivot Riser – The riser pipe, below the pivot bearing, is available in two different heights to accommodate inlet hook-ups. The long sweep bottom elbow provides a friction reducing passage of flow to the system and is offered in a variety of options (plain, SAE flange, and ring-lock coupler ends). Several filter options can be used in place of the bottom elbows that mate with the riser and the inlet pipe.
Collector Reel – The collector reel has a corrosion resistant, aluminum housing to provide years of reliable service. The top is domed to direct any condensation to the sides and down instead of dripping onto the electrical contacts providing extended years of trouble free service.
Quality workmanship and advanced design are evident throughout the entire pivot structure, and especially in our unique pivot design.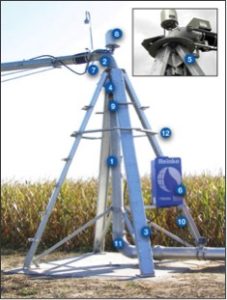 8″ or 10″ riser pipe available, with eye level pressure gauge
Friction reducing sweep elbow
Legs: Durable 8″ x 3″ roll-formed C-channel leg
High strength 18″ pivot center bearing
Easy, adjustable cam ring or cam plate is available for precise control of end guns, auto stop or reverse controls
Corrosion resistant powder coated aluminum main control panel
Stress relieving pivot flex joint standard on every pivot system
Corrosion resistant aluminum collector reel
Riser gasket seats against stainless steel surface for positive, long-lasting seal*
Adjustable main control panel mount
Friction reducing sweep bottom elbow
Optional pivot center walkway
*Optional triple lip seals are available on low pressure installations.
Cam plate style attachment at the pivot center shown inset.
And remember all of Shoemaker Irrigation's Residential, Commercial and Agricultural Systems are supported by state-of-the art drainage systems including options for ADS piping, NDS valve boxes as well as NDS drainage boxes. There is no problem too big for Shoemaker's Irrigation's solutions!