The corrosive nature of your water, field size, terrain and soil type all have an impact on the material and diameter of the pipe in your system. Reinke offers more choices for a system that lasts longer, performs better, costs less to maintain and is backed by an industry exclusive 5 Year Structural Warranty.
For more than 40 years, we have offered the widest variety of pipe materials in the industry. Back that with the experience and know-how to determine where best to use them and the result is a long-lasting, efficient system.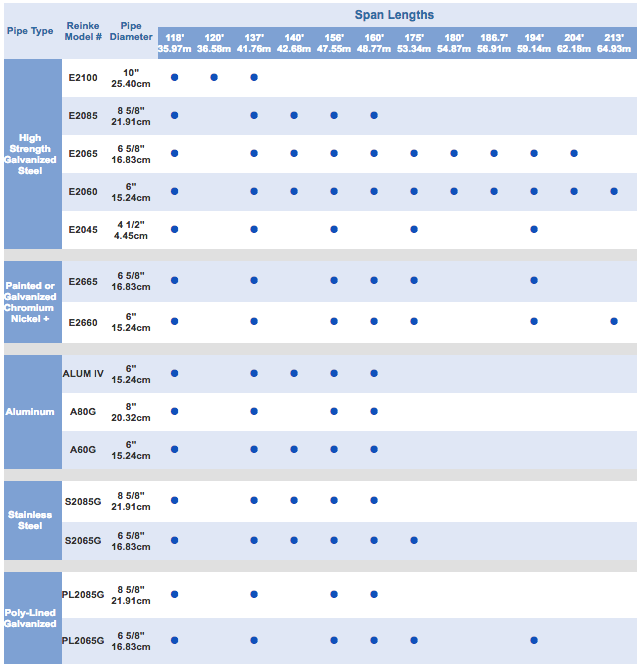 * Specifically designed for smaller fields, the strength and light weight of the Minigator E2045 means serious business. Originally introduced back in 1969, the Minigator returns with all the quality and features of its renown big brother, the Electrogator II. The Minigator utilizes 4.5 inch diameter water pipe in span lengths of 118 to 194 feet and can easily irrigate small fields up to 60 acres or more.
5 Types of Pipes
Galvanized Steel – Good corrosion protection under most conditions.
Corrosion Resistant Chromium Nickel+ – Good protection from moderately aggressive water, farm chemicals. (Offered with a painted interior/exterior or it too can be galvanized.)
Aluminum – Good choice for livestock and processed water applications.
Stainless Steel – Recommended for extreme high or low pH values. Also good for water conditions that vary considerably, such as food processing effluent.
Poly-Lined – Excellent cost-effective option for processed water or water that has a low pH.
Reinke's new and improved poly-lined pipe is now available in 6 5/8" and 8 5/8″ galvanized pipe. The high density 3/16" polyethylene liner, or HDPE pipe liner, is constructed from virgin materials and not from recycled product. Each sprinkler outlet is equipped with a heavy duty ¾" glass-reinforced, nylon coupler spaced 57" apart for maximum uniformity of application. The added strength provided by the ¾" coupler allows the use of ¾" PVC drops or hose drops using standard ¾" PVC U-pipes or the 125 degree goosenecks with hose slings.
Towers
Reinke's single-leg tower is a roll formed, 9-gauge (7-gauge optional), C-channel measuring 8″ x 3″ x 1.25″ with 60,000 psi yield strength. These legs are attached to the trussing with a 3″ stiffener made of galvanized tubing. These high-strength materials require no additional bracing at the tower and provide a narrower profile which reduces the contact with taller crops as well as reduces the interference of the sprinkler stream.
Enclosed inside metal-flange-to-metal-flange connections, Reinke's exclusive V-ring seal provides a long lasting, positive seal that creates no flow restriction and eliminates potential UV damage to the seal.
Unique flex coupling design allows Reinke water pipe to be interchangeable. No special tower pipe required.
The internal flex joint is a critical part of the flexibility and strength of a Reinke System. Three axis flexibility with center line rotation reduces structural stress and extends boot life.
Unique parallel linkage provides precise alignment.
3″ OD galvanized tower stiffeners transmit loads uniformly to the under truss, not to the pipeline.
Friction Loss Comparison
As can be seen from the charts below, completed with information from a Clemson University Study, the Reinke Internal Flex Joint produces minimal loss (approximately 1 psi with 800 gpm, on a 1300′, 8 tower system) regardless of field conditions. The external ball-hitch coupler (in the chart below right) will generate approximately half to four times more loss, due to its design and operation on rolling terrain.
Reinke Internal Flex Joint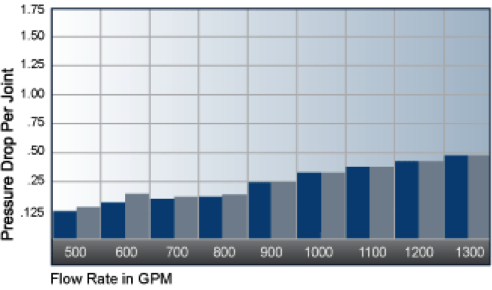 External Ball-hitch Coupler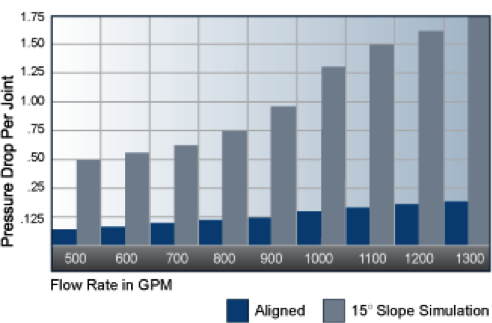 Towables
When conditions demand the flexibility that a towable system delivers, Reinke can meet your needs with a broad selection of towable options. The original 2-wheel Kwik Tow pivot sets the standard for small field towable pivot systems. The 4-wheel pivot mover is unique in its ability to quickly adapt to movement in any direction. Wheel hubs are mounted on base beams and can be quickly swiveled 90 degrees. The quick hitch can be moved to any side for directional towing. The specially designed Reinke TNT (Tow, Non-Tow) gearbox is used on all Reinke towable systems. Our optional Reverse Tow steering linkage allows towable machines to be towed from either the pivot center or the end tower.