Benefits
Durability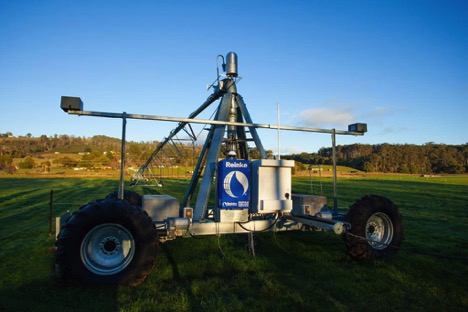 Built to Reinke's high standards, the Pivoting Lateral Move System will provide years of reliable service. From a stainless steel wear ring, to a hot dipped galvanized frame, each system has been engineered to provide the best performance the user is looking for at an affordable cost of ownership.
Complete Solution
Reinke provides many options for customizing the system to suit your operation's needs, such as: guidance, water hook-up, span sizes, tire sizes, generators, fuel tanks and chemical tanks.
Full Control


The Pivoting Lateral Move System doesn't fall short on controls. Unlike the competition, the system can be programmed to suit your needs, whether it's a pivot here, or a lateral there, you can easily program your system using the industry's only Pivoting Lateral Field Designer. The system can also be setup to autonomously move between a pivot stage and a lateral stage.
Specifications
| | |
| --- | --- |
| Maximum Length: | 426m, 1400 ft (On-cart Guidance) 518m, 1700 ft (Mid-mount Guidance) |
| Span Lengths: | All Electrogator II Span Lengths Available |
| Pipe Sizes: | 6", 6 5/8", 8 5/8" |
| Span Type: | Galvanized & CN+ |
| Span Height: | Low Profile, Standard |
| Auto Reverse Over The Hose: | Optional |
| Hose Options: | Poly Hose: 4", 5", 6", 8" Soft Hose: 4", 4 1/2", 5", 6", 8" |
| Power Source: | Drag Cord or Genset |
| Sprinkler Package: | Pivoting Lateral Package, Lateral Only Package |
| Guidance: | Cart Mount: Navigator GPS Guidance or Furrow Mid-Mount: Navigator GPS Guidance or Buried Wire |
| Control Panel: | Computerized Touch Screen Main Control Panel |
| Drive-Train: | 4 Center Drives and Wheel Gears |
| Cart Control: | VFD Alignment System Optional Auto-Spin and Electronic Cart Positioning |
| Inlet Types: | Auto-Reverse, Single Inlet, Dual Inlet |
| Safety: | Proximity Switches, GPS Geo Safety, Hose Trips, System Safety Circuit, Safety Control Valve |
| Other Options: | Fuel Tank, Chemical Tank, Ballasts, Access Step |